Hoe ondersteun ik mijn medewerker tijdens zijn gesprek?
1) Ik wil mijn medewerkers realtime helpen tijdens een gesprek door het aanbieden van kennis en antwoordsuggesties
2) Nieuwe medewerkers wil ik sneller kunnen inzetten
3) Ik wil mijn medewerkers helpen bij de juiste vervolgstappen bij de klant (Next Best Action)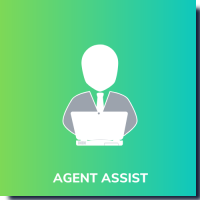 De oplossing voor Agent assist
Met agent assist ondersteun je de medewerker realtime met antwoordsuggesties of met kennis die aansluit bij het gesprek dat wordt gevoerd.
Door een bot realtime mee te laten lezen en luisteren en deze te koppelen aan je kennisbank worden je medewerkers continu voorzien van antwoordsuggesties en relevante kennis.
Medewerkers kunnen hierdoor snel en consistent de klant helpen en voorzien van de gewenste informatie en waar nodig, helpen bij de vervolgstappen. (ook wel next best action genoemd)
Door gebruik te maken van Agent assist zet je onervaren of nieuwe medewerkers snel in, verkort je afhandeltijden en is de kwaliteit van de beantwoording consistent.
Waarom kiezen voor Agent assist?
De voordelen op een rijtje

De medewerker krijgt realtime ondersteuning tijdens zijn werkzaamheden, waardoor er minder fouten worden gemaakt

Afhandeltijden worden verkort doordat de juiste informatie beschikbaar is

Je verbetert de kwaliteit van de beantwoording op vragen van je klanten

Onervaren of nieuwe medewerkers kunnen snel ingezet worden

Je verbetert je resultaat door je medewerker te helpen met de vervolgstappen, zoals het aanbieden van een gepersonaliseerd aanbod