Ik wil...
1) Mijn klanten op de website proactieve chat kunnen aanbieden
2) Dat minder klanten online afhaken, door ze daar te helpen
3) Een chatbot op mijn website inzetten, om de druk op mijn contact center te verlagen
4) Mijn klanten online begeleiden naar de juiste informatie
5) Een betere online ervaring creëren voor mijn klanten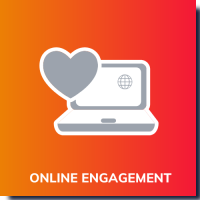 Oplossing
Met deze online engagement oplossingen ben je in staat om real-time over alle online kanalen heen met individuele bezoekers in contact te komen. Op het juiste moment ga je relevante interacties met hen aan om zo een nog betere online ervaring te creëren. Deze interacties kunnen zonder menselijke interventie plaatsvinden (bijvoorbeeld via een chatbot, met contextuele FAQ's) of juist in contact met een medewerker (door livechat, of co-browsing).
Waarom kiezen voor Online engagement?
De voordelen op een rijtje

Verhogen van de online conversie

Online selfservice levert een significante besparing op in het contact volume

Online hulp aanbieden op het juiste moment

Een sterkere merkbeleving