Ik wil...
1) De status van mijn ambulante collega's zien
2) Geen ACD gesprekken krijgen wanneer ik iemand met mijn mobiel aan het bellen ben
3) Uitgaand bellen met mijn mobiele telefoon, waarbij het nummer van mijn bedrijf wordt getoond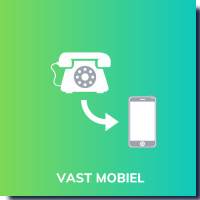 Oplossing
Een vast-mobiel integratie is de oplossing wanneer je wenst dat je mobiele nummer zich gedraagt als een vast nummer. Met één single device kan je bellen en gebeld worden voor zowel privé gesprekken als voor ACD (Wachtrij) gesprekken.
De automatische statusuitwisseling zorgt er dan voor dat je geen gesprekken doorgestuurd krijgt wanneer je al in gesprek bent. Kortom een must have voor elke onderneming met medewerkers in de buitendienst.
Waarom kiezen voor Vast mobiel?
De voordelen op een rijtje

Minder onnodig wachten bij doorverbinden

Een toestel (mobiel) voor zowel privé als zakelijke gesprekken

Overzichtelijke rapportages van je buitendienst medewerkers

Je bent op elke plek bereikbaar, of je nu op kantoor, onderweg of thuis bent

Met een vast mobiel integratie deel je al je belminuten, sms'jes en internetdata met collega's. Dat scheelt kosten!