Hoe verbeter ik de samenwerking tussen mijn klantenservice en de rest van de organisatie?
1) Ik wil vanuit de klantenservice de beschikbaarheid van al mijn collega's in de organisatie kunnen zien
2) Ik wil eenvoudig een collega vinden die beschikt over de juiste kennis voor mijn vraag
3) Ik wil graag via chat of videobellen kunnen communiceren met mijn collega's
4) Ik wil gesprekken eenvoudig kunnen doorzetten naar collega's in de organisatie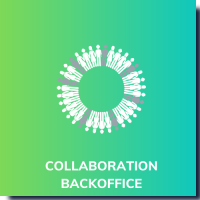 De oplossing voor samenwerking met de backoffice
Als klantenservice medewerker wil je natuurlijk de vraag van klanten in één keer goed en direct kunnen afhandelen. Hiervoor heb je soms de hulp nodig van een specialist binnen je organisatie.
Als agent wil je dan ook snel inzicht hebben in de beschikbaarheid van je collega's. Door je contact center en de overige medewerkers van de organisatie te laten samenwerken in één collaboration tool, wordt deze samenwerking gefaciliteerd.
Dit kan enerzijds door de koppeling van een bestaande tool zoals Microsoft Teams met je contact center omgeving of door gebruik te maken van een all-in-one oplossing zoals Genesys Cloud.
Waarom kiezen voor Samenwerking backoffice?
De voordelen op een rijtje

Je krijgt inzicht in de bereikbaarheid van de collega's in de backoffice

Communiceer snel en doeltreffend met collega's door gebruik te maken van spraak, chat, video of je scherm delen

Vind snel de collega met de juiste kennis en vaardigheden die jou kan helpen