Ik wil...
1) Mijn bezetting optimaliseren
2) Op basis van gebeurtenissen automatisch triggers of processen kunnen starten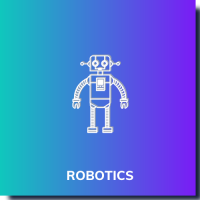 Oplossing
Er zijn in een contact center omgeving veel eenvoudige standaard processen/ handelingen die zich lenen om geautomatiseerd te worden, waardoor de medewerker efficiënter ingezet kan worden op activiteiten/taken die complexer van aard zijn.
Op basis van een algoritme worden eenvoudige, repeterende handelingen voor de medewerker uitgevoerd waardoor er meer tijd over is voor het afhandelen van complexe of gevoelige vraagstukken.
Waarom kiezen voor Robotics?
De voordelen op een rijtje

Automatiseren standaard handelingen, waardoor medewerker efficiënter worden ingezet

Medewerkertevredenheid wordt verhoogd doordat de 'saaie' standaard klussen geautomatiseerd worden