Ik wil...
1) Mijn bezetting optimaliseren
2) Dat mijn medewerkers zelf shifts met elkaar kunnen uitwisselen
3) Inzicht in mijn lange termijn forecast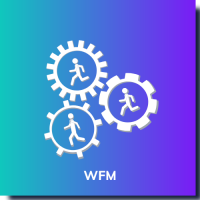 Oplossing
Om het juiste aantal goedgetrainde medewerkers en resources op het juiste moment beschikbaar te hebben is een workforce management oplossing absolute noodzaak. Deze zorgt voor een forecast op zowel korte als lange termijn, en dat er gepland en geroosterd kan worden.
Bovendien geeft het inzicht of er voldoende vaardigheden beschikbaar zijn bij de mensen of dat er bijscholing nodig is.
Waarom kiezen voor WFM?
De voordelen op een rijtje

Juiste bezetting op het juiste moment

Door juiste bezetting wordt kosten efficiënter gewerkt

Hogere medewerkertevredenheid doordat het aanbod van vragen beter is afgestemd op de huidige bezetting

Bewaken van de dagelijkse voortgang