Ik wil...
1) Realtime communicatie via browsers en mobiele devices vereenvoudigen
2) Spraak vanaf een app of website zonder telefoonlijn
3) Flexibel en locatie onafhankelijk werken zonder technisch gedoe
4) Maatschappelijk verantwoord ondernemen en daarbij passen minder vaste toestellen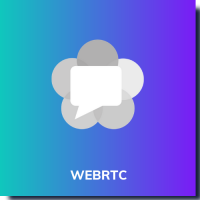 Oplossing
WebRTC maakt het voor medewerkers mogelijk om direct via de browser te communiceren met klanten via spraak. Extra software of plug-ins installeren is niet nodig; je browser is voldoende. Dat betekent dat tijd- en plaatsonafhankelijk werken nu echt mogelijk is zonder VPN. Thuiswerken wordt dus nog eenvoudiger. Na het aansluiten van een headset op de laptop kunnen je medewerkers beginnen met bellen.
Enkele grote browser ontwikkelaars zoals Google, Opera en Safari namen het initiatief voor WebRTC. Hun doel? Directe communicatie vanaf een webpagina of app faciliteren zonder technische hobbels.
Waarom kiezen voor WebRTC?
De voordelen op een rijtje

Je klanten kunnen direct een gesprek starten vanuit de website en/of app, zonder vooraf een client of plug-in te downloaden

Met WebRTC kan je zowel Windows als Apple laptops/pc's gebruiken waardoor je je medewerker een keuze kan bieden voor haar/zijn favoriete laptop

WebRTC gaat niet via de traditionele telefoonlijnen, maar volledig via het web. Verkeerskosten voor je klant of je eigen organisatie behoren daarmee tot het verleden.

WebRTC maakt het gebruik van vaste toestellen en/of softphones overbodig wat naast een directe financiële besparing ook een indirecte besparing oplevert door minder IT kosten